About us
About TAKAMURA COFFEE ROASTERS
The reason why a wine shop started roasting
its own coffee beans.
Have you ever experienced the uplifting feeling dropped by half when you went to a sushi restaurant and were basking in the afterglow of wonderful sushi but green tea they offered was not good?
And also, have you disappointed at coffee while you enjoyed dessert after you had a great meal at a restaurant where stocks full range of wine?
Casual restaurants did not have a wide range of wine like now until 10 years ago.
However, I am happy to see that it has become normal to consider compatibility between food and wine and there are more and more restaurants to have great wines no matter what the price is. I'm just sad to say I still think there are only few restaurants to put a deal of thought into coffee, which tops off a lovely meal.
"Ah, I want to have a nice coffee after meal…"
From that simple feeling, I started having interests into coffee and to study about it. Then I have realized there are stunningly so many common points between coffee and wine. So there is a phrase in some book…
"Select coffee like selecting wine"
and I though 'I might be able to make innovative coffee if I roast beans with the sense of selecting wine by making use of the experience of it. This was the trigger to start roasting our own beans. Like a negociant seek good grapes, we want to find a wonderful green beans producer and make a coffee using that beans which we think coffee is good.
We – a wine shop – started it with simple and special thoughts of 'we want to a good coffee which enhance the afterglow of a lovely meal' by putting some thought into it. We believe our coffee has unique taste to a wine shop that wine lovers may enjoy.
Please try and enjoy our coffee.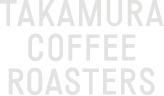 ~Currently at Takamura~
We opened our roaster seven years ago and our hardworking staff has been striving for superior quality coffee ever since.
We've also continued acquiring high quality coffee beans from Cup of Excellence every season since we began.

We have also focused on participating in competitions over the last 3 years.
One of our baristas made it to the final level of the Japan Hand Drip Championship in 2017.
We also placed 2nd at the Japan Coffee Roasting Championship in 2018. This involved both roasting and the evaluation of green coffee beans.
We also won 1st place at the Japan Aeropress Competition in 2018 and reached the quarterfinals at the 2018 World Aeropress Championship.
Last year we started purchasing beans directly from coffee farms.

Although we only began this process last year, we hope to quickly develop deep relationships with the coffee producers in much the same way as we have been doing as a wine shop.

"Select coffee like selecting wine"

We aim to provide superior coffee by leveraging our experience with wine. Our hope is to express coffee as never before. We continue our business with this hope.
01
What is Specialty coffee
Specialty Coffee
We roast specialty coffee - the industry's highest quality of coffee beans. It is defined by Specialty Coffee Association of Japan as,"Coffee with a wonderful flavor that is highly prized by customers. To make this wonderful flavor possible, consistent quality control throughout the seed-to-cup process is necessary.
"We aim to bring out the nuanced flavors of each coffee's unique terroir by means of the roasting process. 
Our Coffee Quality
In the coffee world, there are various levels of quality organized  like a hierarchical pyramid.
Commodity coffee is generally used for instant and canned coffee. This makes up the majority of the market.Premium coffees, such asJamaica  Blue Mountain, Hawaii Kona, or  Kilimanjaro is a step up from commodity coffee. They are famed for the rich  characteristics of their respective regions of production. 
However, low quality beans often are often sold at high  prices simply because they are from certain areas.The next level is specialty coffee - beans that have been rewarded a certain level of points at auctions.
We frequently join coffee auctions to obtain the highest quality of specialty coffees for  our customers.In order to enter the market as specialty coffee - in addition to a guarantee of superior flavor -  each coffee's farm and producer name, elevation, farm temperature, rainfall rate, soil quality, working environment, and other details must be known.
We offer coffee that can be enjoyed not only for its special flavors, but for all the various aspects of production.
02
Taste of Specialty Coffee
The Flavor of Specialty Coffee
We recommend that our customers enjoy coffees as they would wine.
It is commonly held that coffee is bitter, but specialty coffee in contrast  has a bright acidity, sweetness, and a smooth mouthfeel.Since the flavors differ with each producing region, you can broaden your understanding of coffee and experience something new.
For example Guatemalan coffee is known for its sweet aroma and bright acidity while Kenyan coffee has a signature juiciness and elegant flavor. Based on these variations in region and production, coffee is coming to be appreciated in much the same way as wine.
Wine and coffee have many similarities such as variety, terroir, wine making and processing, aging and roasting, blending, and tasting.
03
one's old home
Producing Areas
The producing region, grape variety, and producer - those are the essentials when we talk about wine.Although coffee is a drink that is loved around the world, people rarely talk about coffee's variety, soil, or producer.

Therefore, through our coffee we hope our customers can know and appreciate eachregion's characteristics as well as the coffee's producer.
We give first priority to bringing out each coffee's characteristics by using the most advanced type of roasting machine available - a smart roaster.

We are committed to a strong partnership with each coffee producer to bring the best coffee drinking experience to our customers.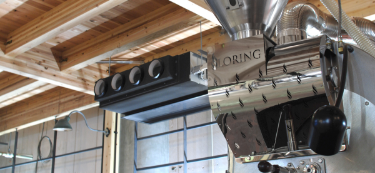 04
Rolling Smart Roaster
Loring Smart Roaster
We only use high quality specialty beans that have passed through the strictest quality control measures from the producer.
Careful roasting is necessary to bring out each coffee's characteristics.
To accomplish this, we partnered with Loring in using their single burner convection design smart roaster.Single burner convection is a way to roast coffee by recirculating warm air to reach the desired temperature.This distributes heat equally and keeps the beans from burning.
This is the best type of roaster for bringing out each coffee's bright acidity, rich flavor, and smooth mouthfeel.We enjoy sharing with our customers the combination of dedicated coffee production and careful roasting.